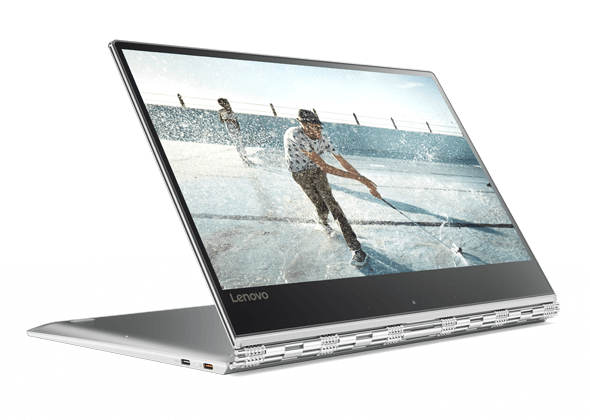 (Image Lenovo)
Sleek, elegant, and powerful.  This beauty has it all – including one rather irritating problem.  Well, maybe two…
But first: From time to time the nice people at Lenovo send me a gadget.  They're handy to have around – both for my own use and when trying to help out in the Lenovo forums.  I do some testing and writing as well.  I'm not otherwise compensated, and opinions are my own.  I DO NOT speak for Lenovo.
A year ago we had a look at the Yoga 900.   It's still one of my favorite consumer-grade laptops.  Lenovo Yoga 900: not a ThinkPad, but not too bad…  It was a real improvement over the ground-breaking Yoga 3 Pro.  The Yoga 910 that recently landed at my front door continues that evolution in all ways:  updated CPU (7th gen Kaby Lake) and RAM, larger and faster SSD, and an optional 4k display.  The very slender bezel makes the most of the available real-estate with most of it dedicated to the display.  It goes without saying that it's a Yoga, with multiple modes:  laptop, tablet, tent, stand…
The specific unit that I received had an i7 CPU, 16GB of DDR4 RAM (soldered to the mainboard), a 1TB NVMe SSD, fingerprint reader, and a 4k display.  Yow!
Let's examine the evolution of the 910 by comparing it to the 900.  Specifications are derived from Lenovo documentation available at the time of this writing.  Please confirm anything you read here before making a purchase decision.  Also note that the Yoga 900 specs are for a -13ISK model.  That has been superseded by the -13ISK2 with an NVMe SSD.

Specifications
Yoga 910
Yoga 900

Processor

Intel i5-7200U (2 cores / 4 threads 2.5 GHz 3MB cache)

Intel i7-7500U (2 cores / 4 threads 2.7 GHz 4MB cache)

Intel Core i5-6200U (2 cores / 4 threads 2.3 GHz 3MB cache)

Intel Core i7-6500U (2 cores / 4 threads 2.5 GHz 4MB cache)

Operating System

Windows 10 Home or Pro 64
Windows 10 Home 64

Graphics

 Intel HD Graphics 620
 Intel HD Graphics 520

Memory

16GB max 2133MHz DDR4 soldered to system board
16GB max 1600MHz LPDDR3 soldered to system board

Storage

Up to 1TB  m.2 2280 PCIe 3.0 x 4 SSD
Up to 512 GB  m.2 2280 SSD

Display

FHD (1920×1080)

UHD (3840×2160)

IPS 13.9″ 300 nits

QHD+ (3200 x 1800)

IPS 13.3″ 300 nits

Camera

 720p HD, 1.0 MP resolution, fixed focus
 720p HD, 1.0 MP resolution, fixed focus
Audio support
HD audio, JBL branded stereo speaker with Dolby Audio Premium certification 2.0W x 2

dual array microphone

combo audio / microphone jack

HD audio, JBL branded Speaker with Dolby Audio Premium certification 2.0W x 2

dual array microphone

combo audio / microphone jack

Keyboard
Full-size keyboard, backlight, 6-row, multimedia Fn keys
Full-size keyboard, backlight, 6-row, multimedia Fn keys
Touchpad
One-piece multi-touch touchpad
Buttonless touchpad below keyboard, multi-touch
Ambient light sensor
Yes
Yes
Fingerprint Reader
Yes
No
WLAN
802.11ac, QCA61x4A 1×1 Wi-Fi + BT combo adapter

(Bluetooth 4.1 integrated in Wi-Fi + Bluetooth combo adapter)

One of the following, configurable by model:

11b/g/n+BT: 11b/g/n, 1×1, Wi-Fi + Bluetooth combo adapter, M.2 Card

11ac+BT: 11ac, 1×1, Wi-Fi + Bluetooth combo adapter, M.2 Card

Intel 8260 ac+BT: 11ac, 2×2,Intel Dual Band Wireless-AC 8260,
Wi-Fi + Bluetooth combo adapter, M.2 Card

(Bluetooth 4.1 wireless, integrated in Wi-Fi + Bluetooth combo adapter)

Battery

Up to 15 hours Li-polymer 4-cell 78Wh
Up to 9 hours, 4-cell 66 Watt Hour Li-polymer

Ports

USB 3.0 x 1 (support always on charging)

USB 3.0 x 1 (Type C, support DP function)

USB 2.0 x 1 (Type C, support DC-in function)

audio combo jack x 1

optional HDMI port (via USB 3.0 Type-C to HDMI Dongle, sold separately)

optional VGA port (via USB 3.0 Type-C to VGA Dongle sold separately)

2 x USB Type A 3.0 1 x USB Type C 3.0 with Video-out 1 x DC-in with USB 2.0 Function

4-in-1 Card Reader (SD, MMC, SDXC, SDHC) Audio Combo Jack

Weight

3.04lb (1.38kg)
2.8 lbs (1.3 kg)

Dimensions

12.72″ x 8.84″ x 0.56″ (323mm x 224.5mm x 14.3mm)
12.75″ x 8.86″ x 0.59″ (324 x 225 x 14.9 mm)

Color

Silver, champagne gold or gun metal
Clementine orange, champagne gold or platinum silver
Photos
A look at the display and keyboard.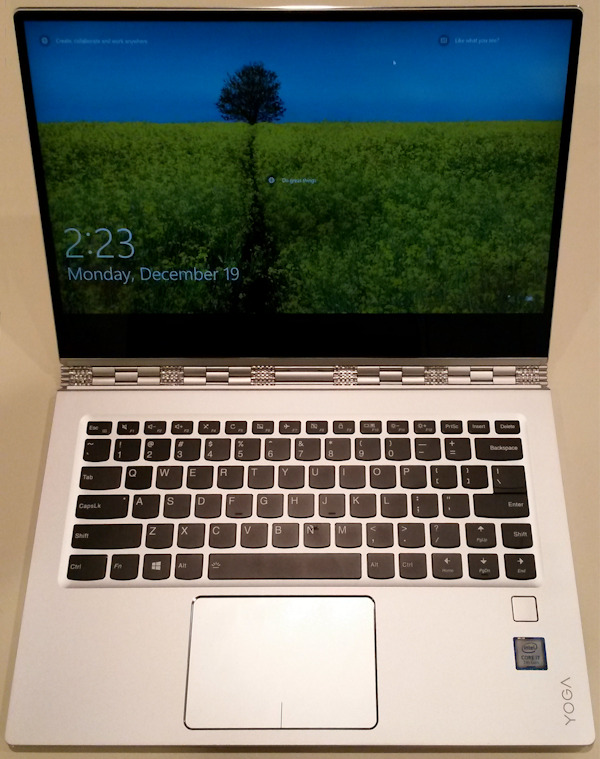 The Yoga 910 uses USB-C charging.  The charger has been tweaked – with the AC prongs at the corner – to avoid blocking both outlets of a North-American duplex, or multiple outlets in a plug strip.  An AC extension cord is also included.  A nice touch.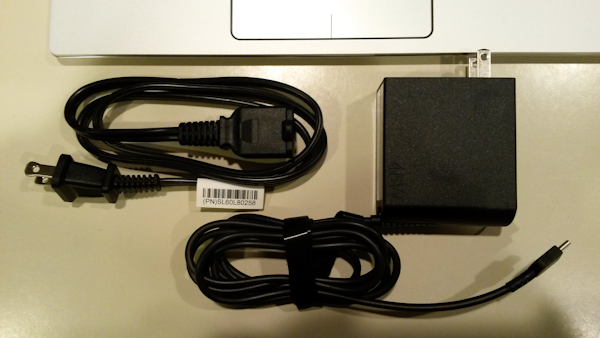 And now let's compare the old and new.  The 910 is on top, the 900 on the bottom.  They're similar … yet different.  The 910 has a USB-C charging port and no card reader among other differences. The details are spelled out in the links at the end of this article.  My apologies for the image quality.  Lenovo hasn't sent me a phone yet…




And finally, a display comparison.  The narrow bezel of the 910 on the right allows for a larger display in a nearly-identically sized laptop.

Yoga 910 Links
(English) User Guide – Yoga 910-13IKB, Yoga 910-13IKB Glass
Hardware Maintenance Manual – Yoga 910-13IKB, Yoga 910-13IKB Glass
Sarbin's Lenovo Forum Spotlight Snap-review: Yoga: The Next Generation – The Yoga 910!
Random Observations
Camera: it's at the bottom of the screen (as viewed in laptop mode).
Devices, drive layout and performance: as-delivered Device Manager, SSD layout, SSD performance.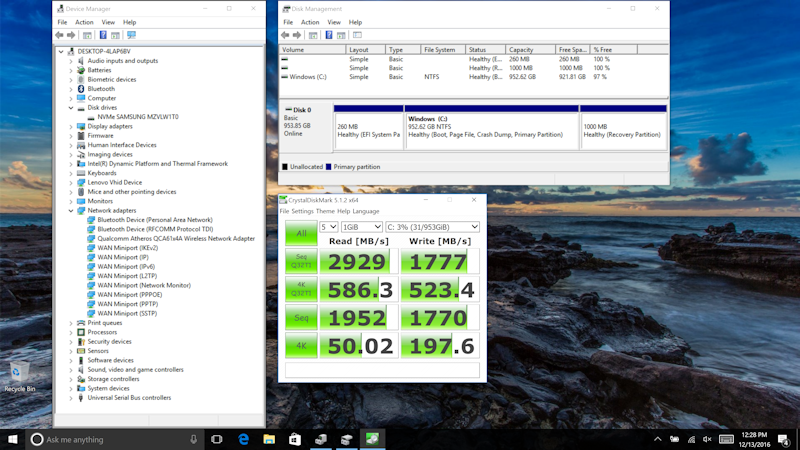 Linux: Yes, the Yoga 910 will boot Ubuntu 16.04 live on a USB flash drive.  However – unless the SATA mode is toggled to AHCI in BIOS config the installer won't be able to see the main drive.  Wifi also doesn't seem to work out-of-the-box.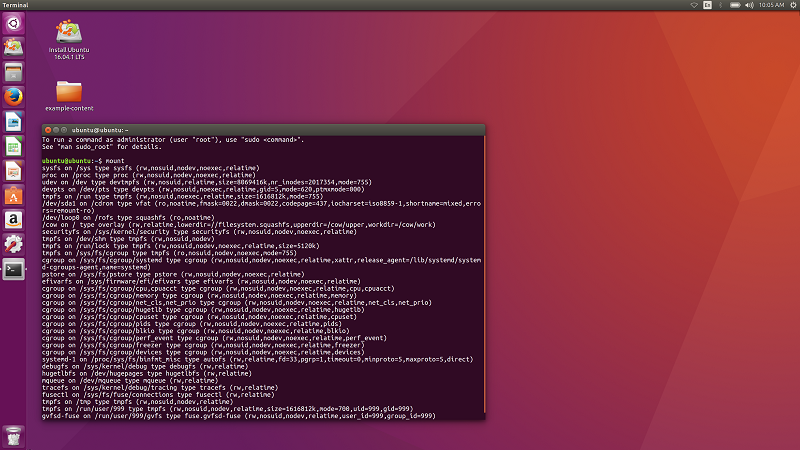 Virtual Machines: VMWare Workstation Player (free) and a couple of my VMs copied from another laptop.  Requires enabling VT-x in BIOS.
This is an example of one of the drawbacks of an extremely high-res display.  Older software (like this Solaris VM) don't know how to scale, and become tiny.  Newer software generally can cope – but some older stuff may be unusable.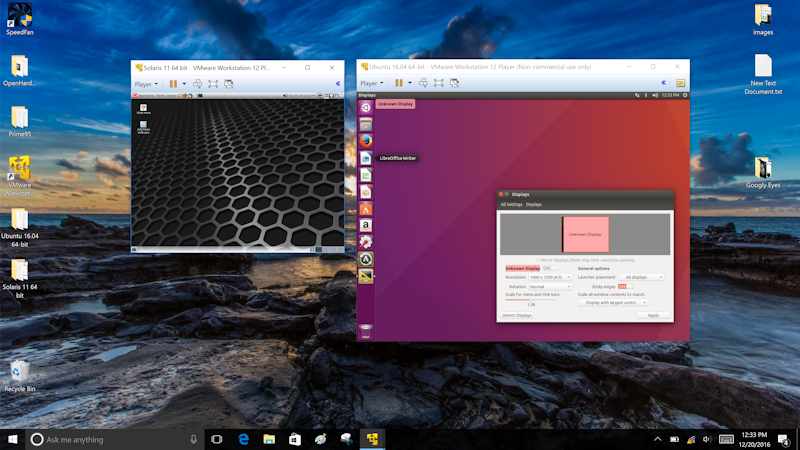 The Problem(s)
Well, I guess you've all been waiting for this… fan noise 🙁  2-in-1 ultrabooks are a challenge to cool.  Add a high-end mobile i7 CPU and it just gets worse.  Then try to hide the vents in the watchband hinge…
It's understandable that there's some fan/air noise given the above.  It can become objectionable if the fan runs too often, runs unnecessarily, or just plain sounds nasty.  All of these have been discussed by unhappy forum members.  My particular unit has a fan whine that I find rather obnoxious.  It's not clear that they all do that.
Lenovo is working on BIOS and driver mods to address some of these aspects.  Forum members are already doing some testing, with mixed results so far.
Part of the problem is "rogue" processes increasing CPU loading (in the background independent of user activity) and causing the fan to run more than it should.  A major player is Windows Update and the associated Trusted Modules Installer.  With Windows 10 Home (the typical OS on these machines) those processes pretty much run when they feel like it, and can disrupt a quiet meeting room, or just aggravate the user.
It's possible – likely even – that considerable improvements in fan noise are on the way, at least as regards frequency of operation and RPM.  The "tone" of the fan is another issue IMHO – and a troubling one.  Stay tuned…
Oh yeah, the other "problem"… the right SHIFT key.  Sheesh.  What were they thinking?
Update 2017.01.27  My Yoga 910 has gone back to Lenovo for analysis, and I've received a replacement.  The replacement still has a fairly "active" fan, but doesn't screech like the first one did.  It's a very different experience, even before making the Lenovo-suggested BIOS and driver changes in the link below.
My guess is that one fan vendor's product that has the severe noise problem – and that's on top of whatever excess fan activity is caused by BIOS, drivers, and general Windows 10 background activity.
For reference, the thread on the Lenovo forums:  Yoga 910 crazy loud fan even when CPU at <35%