(Draft of Lenovo forum blog article)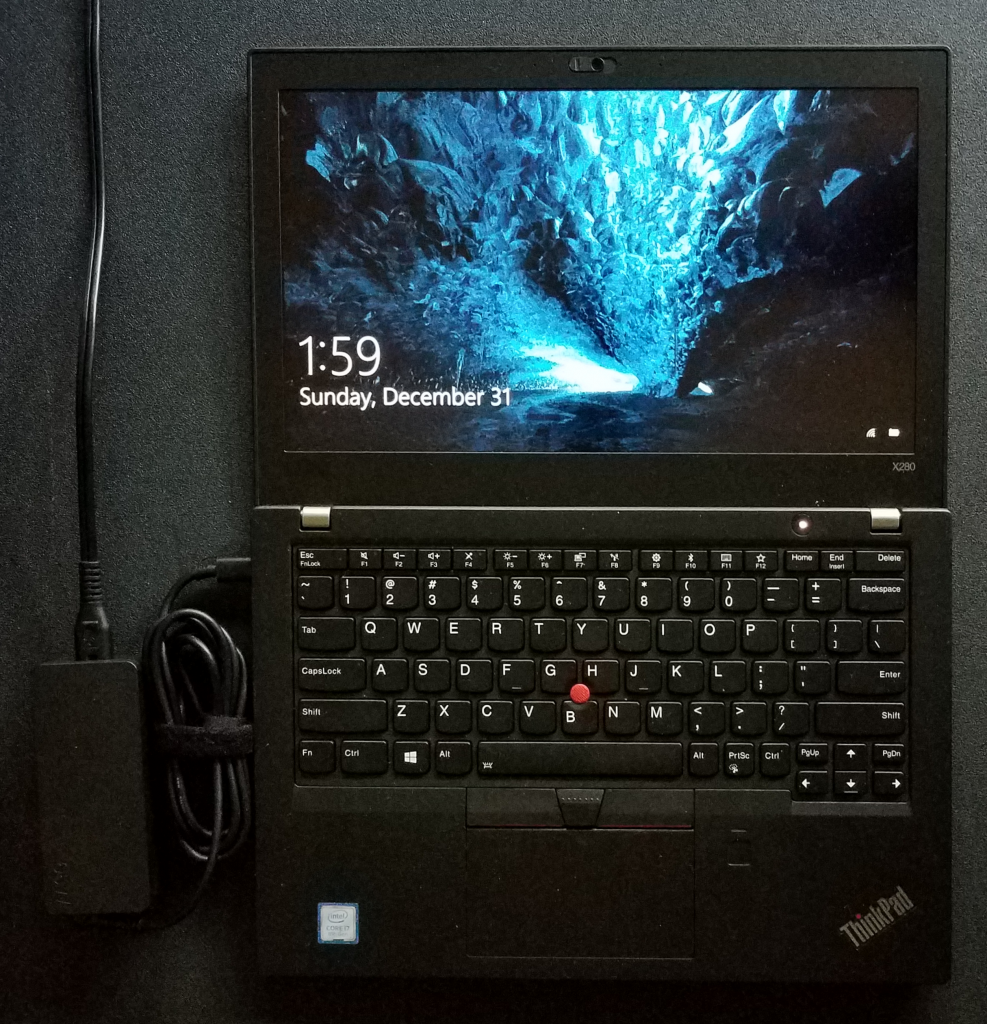 X280 and USB-C charger
Another year, another CES, and another pre-production laptop to test and enjoy.  This year it's a high-spec X280.  The below is not a review – more of a quick survey of specifications and a look at the usual things that I find of interest.  But first:
From time to time  Lenovo sends me a gadget. They're handy to have around – both for my own use and when trying to help out in the Lenovo forums. I do some testing and writing as well. Beyond the use of the laptop, I'm not otherwise compensated.
Professional images are Lenovo's.  Amateur snapshots are mine.  Opinions are exclusively mine.  I do not work for, represent, or speak for Lenovo.
Introduction
This X280 is the successor to the X270. I haven't had any keyboard time with the earlier x270 but looking over its specs and documentation I'd call it a compact "conventional" laptop.  The X280 moves more into the ultrabook range (non-removable battery, proprietary small Ethernet port…).  Specifications and major differences between the '270 and '280 are called out below.
Lenovo Gallery
Specifications
Note: all specifications here are based on currently available documentation and the evaluation X280 as delivered.  I've done my best to check them – but this is preliminary.  Please do not make a purchase decision based on what you read here without verifying yourself.
Lenovo Data Sheet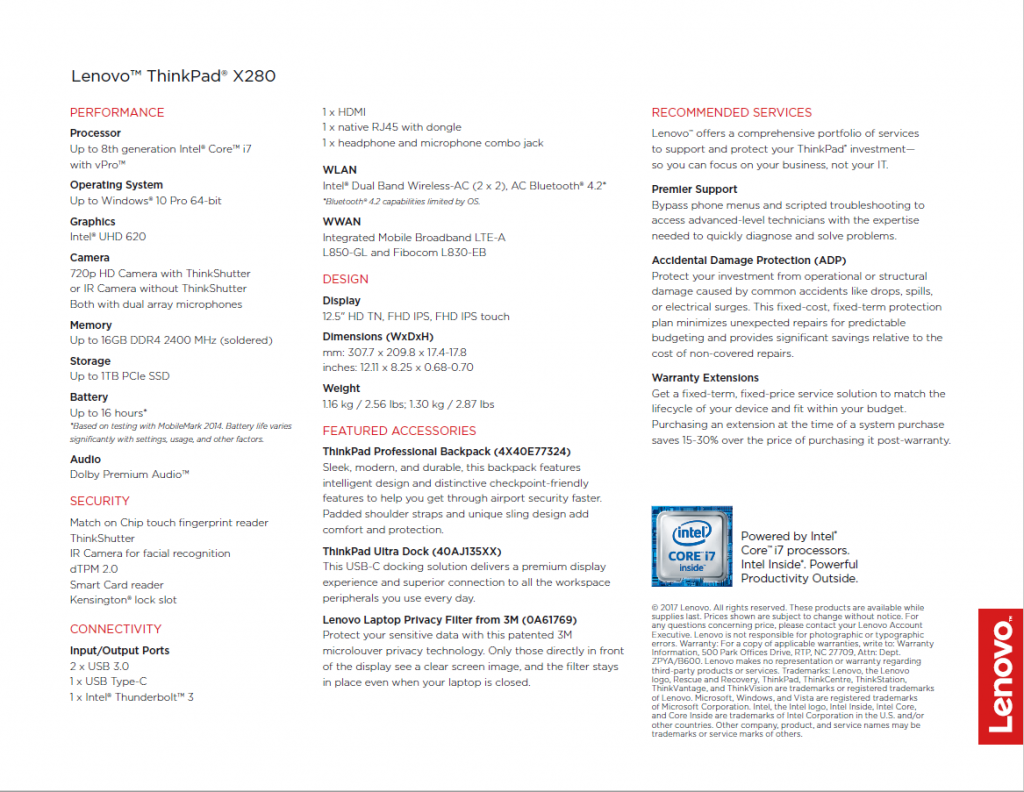 My unit's major specifications
CPU: Quad Core Intel i7-8550U @ 1.80GHz – 1.99GHz
RAM: 16GB DDR4 @ 2400 MHz (soldered)
SSD: 512GB Lenovo-branded PCIe
Graphics: Intel UHD 620
Display FHD IPS Touch – 10 touch points
Camera: 720p HD with privacy shutter
WLAN: Intel 8265 AC
WWAN: none
X280 / X270 specification major differences
CPU: up to 8th gen i7 quad core

/ 

up to 6th or 7th gen i7 dual core
RAM: up to 16GB DDR4 soldered

/

up to 16GB DDR4 single socket
Storage: PCIe SSD

/

7mm HDD or SSD, m.2 PCIe SSD
Graphics: Intel UHD 620

/

Intel 520 or 620
Display: HD TN, FHD IPS, FHD IPS Touch

/

HD TN, FHD IPS, FHD IPS, Touch
Camera: 720p HD Camera with ThinkShutter or IR Camera without ThinkShutter

/

720p HD
LAN: proprietary GigE port + RJ45 Dongle

/

GigE standard RJ45
WLAN: Intel (2 x 2) AC, Bluetooth 4.2

/

Various including WiGig
WWAN: (optional?) LTE-A L850-GL and Fibocom L830-EB

/

Various
Ports: 2 x USB 3.0, 1 x USB Type-C, 1 Thunderbolt™ 3, 1 x HDMI, 1 proprietary Ethernet with RJ45 dongle,  1 x headphone and microphone combo jack

/

Two USB 3.1 Gen 1 (USB 3.0, one Always On), USB 3.1 Type-C Gen 1, HDMI 1.4b, Ethernet (RJ-45), Dock connector
Docking: Side Dock using USB-C and Ethernet connectors

/

bottom port
Card reader: combo SIM + uSD carrier on back, (optional?) Smart Card reader

/

4-in-1 reader (MMC, SD, SDHC, SDXC), (optional) Smart Card reader
Battery: fixed internal

/

removable external + (optional) fixed internal
Power: charge via either USB-C port

/

charge via Slim Tip or USB-C port
Dimensions: mm: 307.7 x 209.8 x 17.4-17.8 inches: 12.11 x 8.25 x 0.68-0.70

/

mm: 305.5 x 208.5 x 20.3 inches: 12.03 x 8.21 x 0.80
Weight: 1.16 kg/2.56 lbs – 1.30 kg/2.87 lbs

/

1.27 kg/2.7 lbs – 1.52 kg/3.33 lbs
Among the welcome enhancements to the new model are a quad-core i7 CPU option (linked above) and a camera privacy shutter.


Privacy shutter open and closed
Front/Rear/Side Views and Ports


Left – USB-C, Thunderbolt, Proprietary Ethernet, USB 3.0, HDMI, Audio Combo


Right – Smart Card, USB 3.0, Lock
Assorted Information
The Lenovo-branded PCIe SSD is fast.  Wireless AC hooks up with my AC 1900 router at 867mbps.  SSD partitioning is as expected for a machine running a Push-Button Reset preload.  (The ADATA in Disk Management is a flash drive … I forgot to unplug…)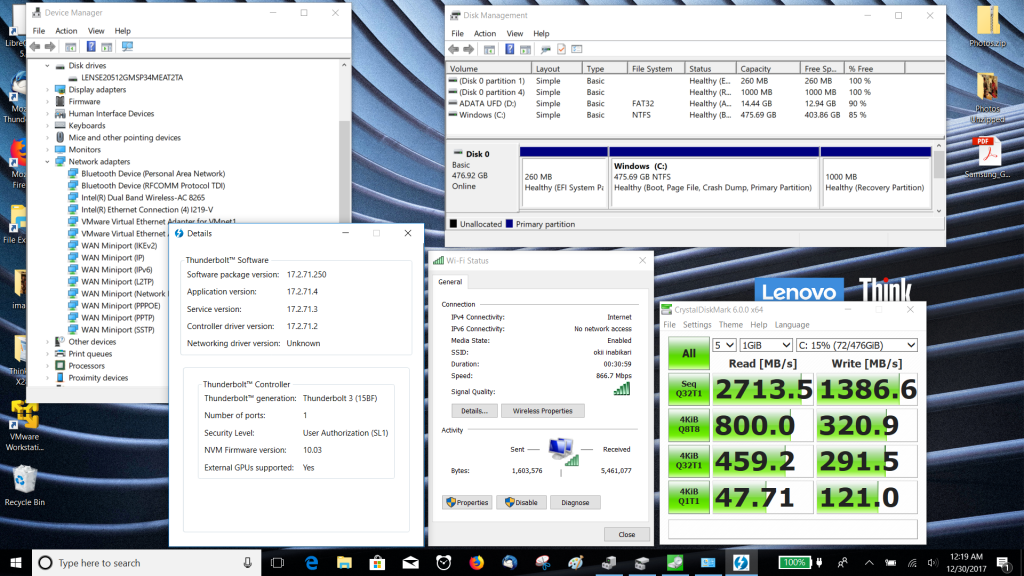 SSD Model, Partitioning, and Performance, Thunderbolt Details, WLAN Details
Virtualization
Intel VT-x was turned on by default in the test laptop's BIOS.  In my working life I did some *nix driver development and support.  VMs were handy when coding and for occasional use of tools that weren't available in windows (less of an issue now with Ubuntu & Bash on Windows).  This i7 16GB laptop had no problems at all running multiple VMs.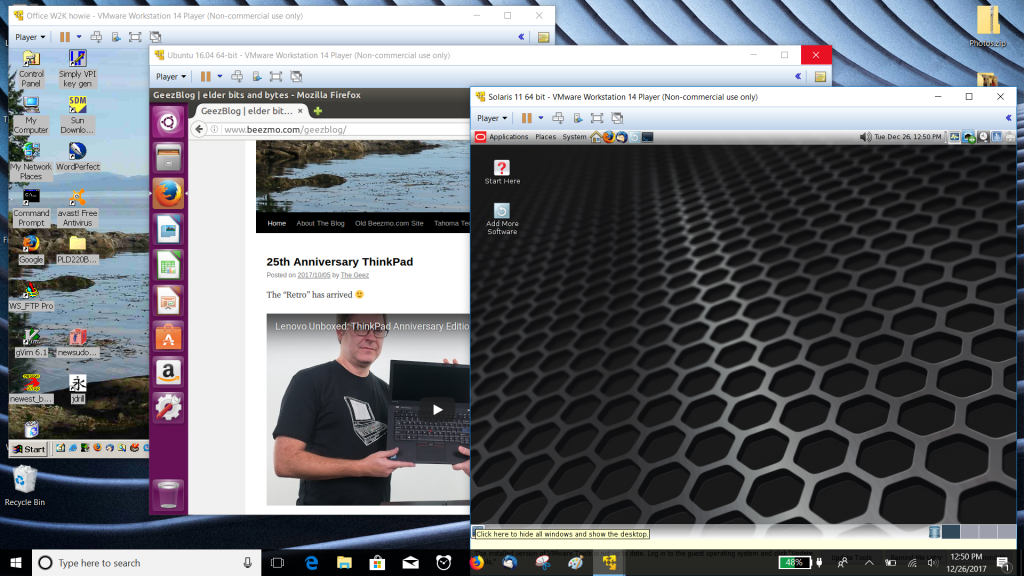 Linux
I don't often run Linux as a bare-metal install these days unless I'm testing a device driver (usually on a desktop).  There are times when it's useful to run a live distro for forensics and/or recovery  – and there are lots of folks who simply prefer Linux on their daily driver.
Testing with a live Ubuntu 16.10 and 17.04 produced mixed results.  (I'm staying away from 17.10 until the dust settles on the UEFI "corruption" problem.  There seems to be a fixed kernel now, and it doesn't seem to be an issue for ThinkPads – but better safe than bricked.)
A serious problem was lack of UltraNav input once booted to Ubuntu.  The TrackPoint was completely unresponsive, and the touchpad would only occasionally respond.  There's a long thread in the Lenovo Linux forum on what seems to be a similar issue.  I'm confident that the open-source wizards will fix this eventually.  For now I did my testing with my favorite accessory: a Lenovo compact USB keyboard/TrackPoint combo. It at least allowed some continued testing and may help when trying fixes in the future.
I didn't give things a very thorough workout but the basics – wifi, touchscreen, and SSD access – all seemed OK.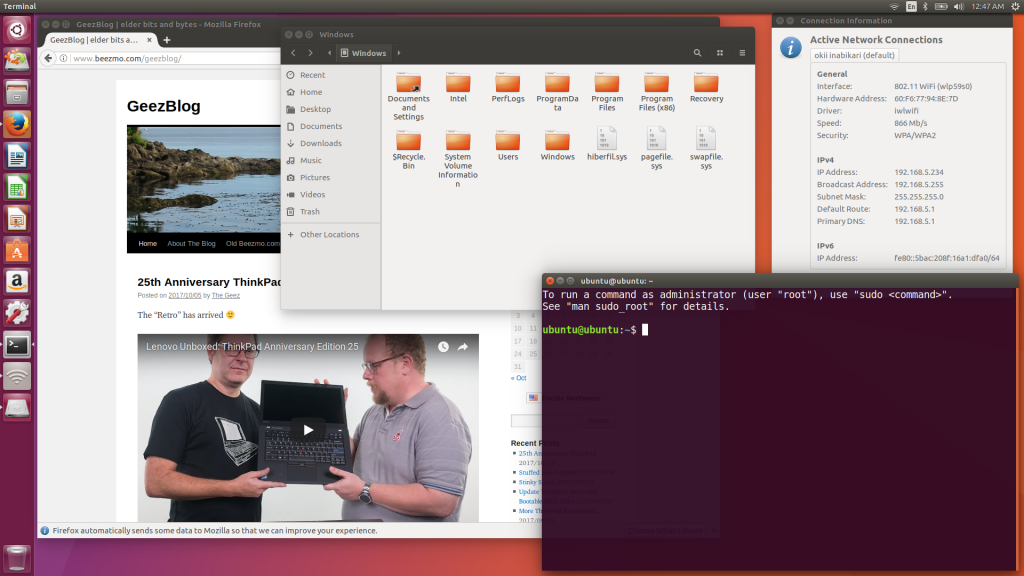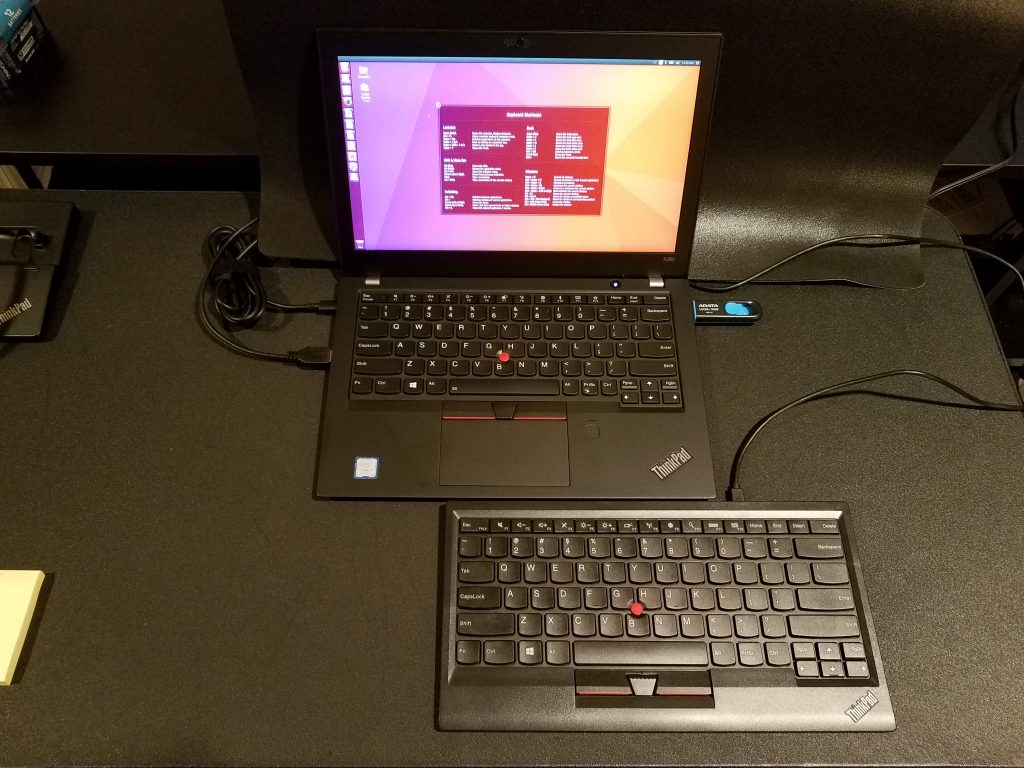 A Few Quick Tests
I haven't had this unit long enough to do really exhaustive testing.  I did make time to try some brief basic fiddling with USB-C accessories.
An Anker USB-C to USB 3.0 hub with GigE port worked fine.  As did a CableMatters USB-C to HDMI adapter.  I was able to run 3 displays – 720p TV, laptop display, FHD monitor – independently using the adapter and the laptop's HDMI port.
I did not have time or appropriate displays to test resolution and refresh rate options.
Battery runtime looks to be 10-12 hours in my normal use mode: ~half screen brightness, ~half way on the performance slider, a few tabs open in FireFox, maybe an text editor running.  It's too soon to make a very accurate call on runtime.
The Last Word
As stated, this is more  a quick survey than a review.  I'll edit and add as/when/if things change.  In the meantime, I'm happy to try to answer questions as time and available gadgets permit.
I've also received a mechanical dock that works with the X280.  It's a "side dock" that uses the laptop's regular USB-C, Thunderbolt, and Ethernet connectors.  A look at that interesting design will come along in the fullness of time.  There just weren't enough hours before CES to get to the dock.  I'm looking forward to it.
For now, here's snapshot of the X280 parked in the mechanical Side Dock:


Basic Side Dock – Ports: Audio, Slim Tip Power, Display Port, VGA, USB x4, RJ45
This wouldn't be complete without a final comment about issues and unanswered questions:  I don't know if the RJ45 dongle will be included with customer-ship units.  My test machine has balky TrackPoint buttons.  The fingerprint reader is inconsistent.  It also takes a minute or so to shut down.  I ascribe these to pre-production hardware and software but won't be able to verify until customer-ship machines are available (and I don't know yet when that will be…)  The Linux TrackPoint issue is a problem.  For now.
[edit 2018.01.08]  The above concerns have made their way to Lenovo engineering.  Hoping for feedback – time frame unknown.