In Recovery
People, MAKE YOUR RECOVERY MEDIA!
This should probably be the first page of this article – and the first thing you see when taking a new computer out of the box.  There's no excuse for not making media.  It doesn't take long – about 10 minutes with a USB 3.0 drive – and requires a $10 flash drive (16GB minimum).
I've lost track of the times a member has shown up on the forums crying the blues because they've had a drive failure, malware infection, or did something like installing another OS or fiddling partitions – and then realized they had no way to recover.  Yes, there's a local on-main-drive recovery capability but that often gets killed along with the OS.
Lenovo can provide media (for a fee) but it's much easier, quicker, and cheaper to just make your own.
Do keep in mind that recovery media only gets you back the OS in its original state.  It doesn't recovery your PhD dissertation – or your cat videos.  Make ongoing backups.  If not a full backup on a regular basis at least back up important data as it's generated.  It just takes a click or two to send stuff to your Gmail account. Just saying…
Making recovery media:
The Miix as delivered uses a compact boot image.  It's similar to a WIM-boot setup but there's no separate boot/recovery image partition.  Even so, the procedure for building recovery media is the same as any other Windows 8.x or 10 setup.
There are multiple ways to get this started but the simplest is probably typing "recovery drive" in the tool-bar search box.  (The below are from a Yoga 900 – but the process is identical)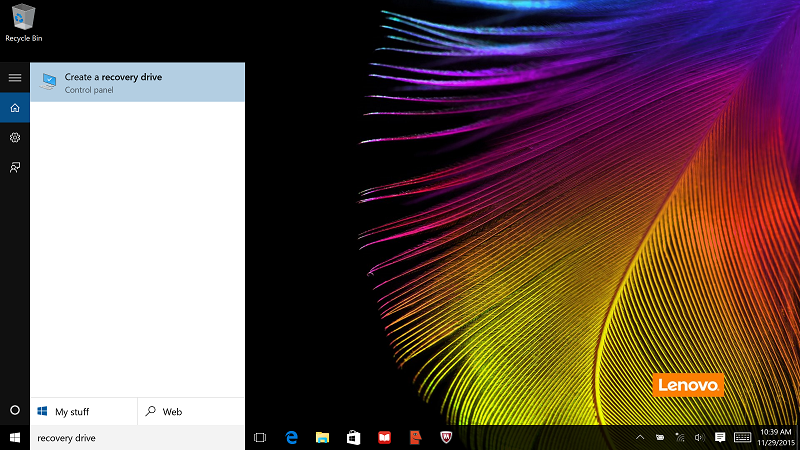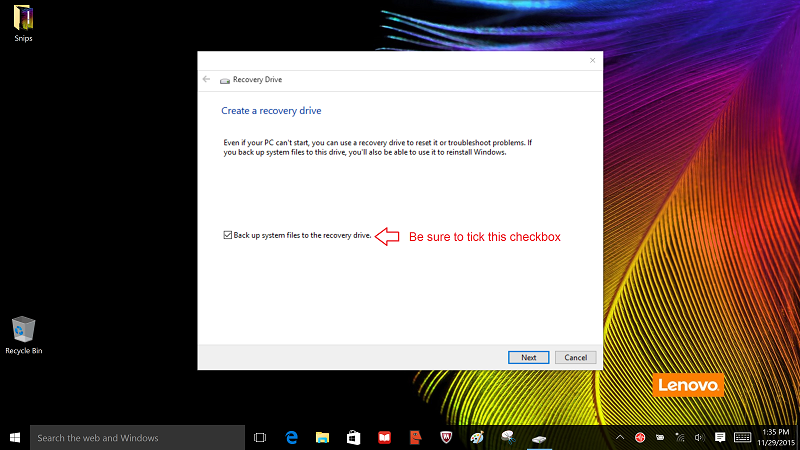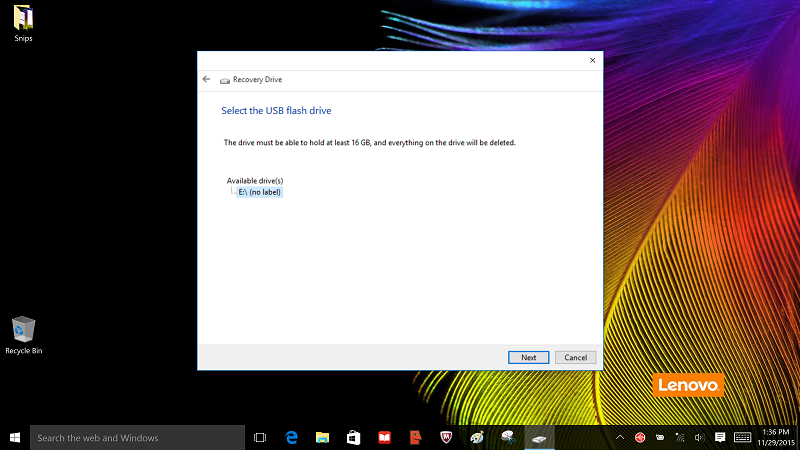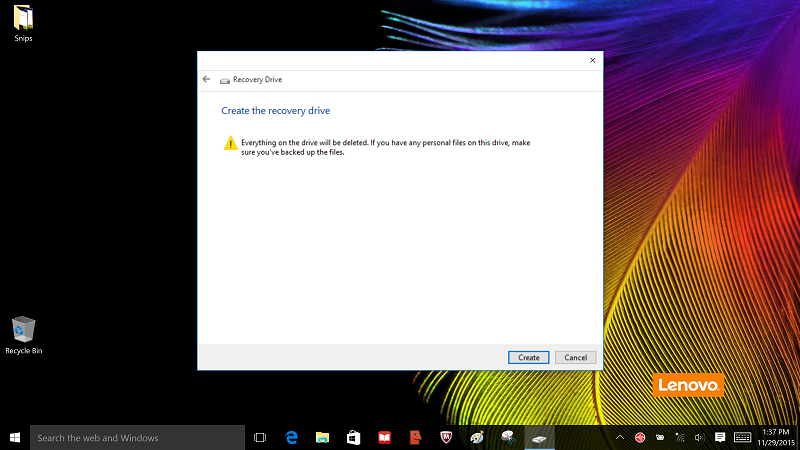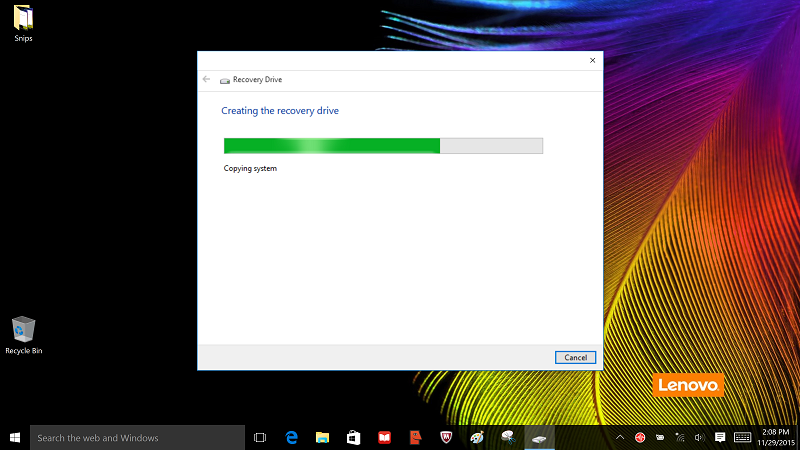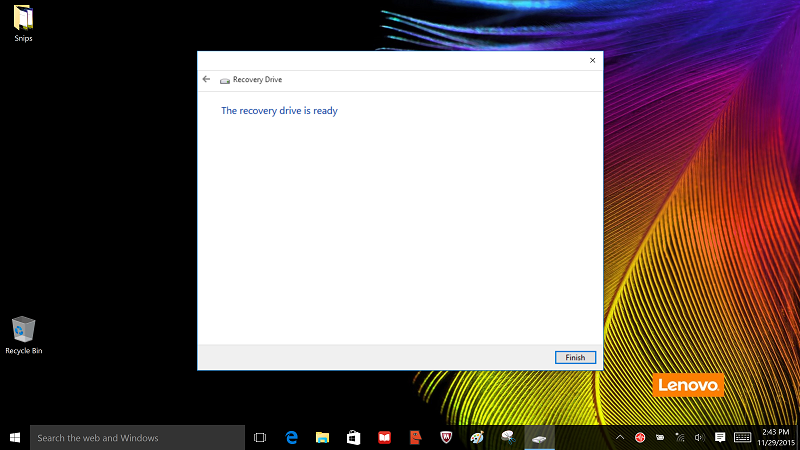 Using recovery media:
Just as there was nothing special about building media, there's nothing unique about using it.  Once the media is booted, the process is the same as with any other Windows 8.x or 10 system.
The recovery media created on the Miix is UEFI/secure boot bootable.  Plug the drive into the USB 3.0 socket (leaving the other one for the charger), and press VOLUME UP and POWER at the same time.  That should bring up the Novo menu: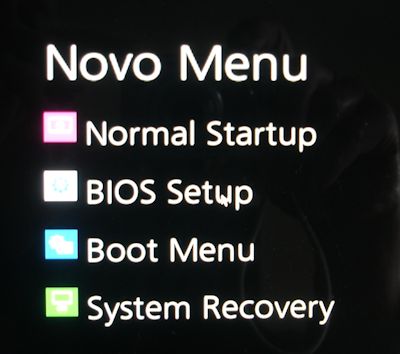 Select "Boot Menu" to get the eponymous screen:

In this case the USB flash drive shows up clearly.  For some specific devices it may not be so obvious but should be easy to puzzle out.  Select it to start the boot process, indicated by the black and white Lenovo splash and circling dots.  The next screen allows selecting a keyboard layout (by language) and doing that brings up the option screen: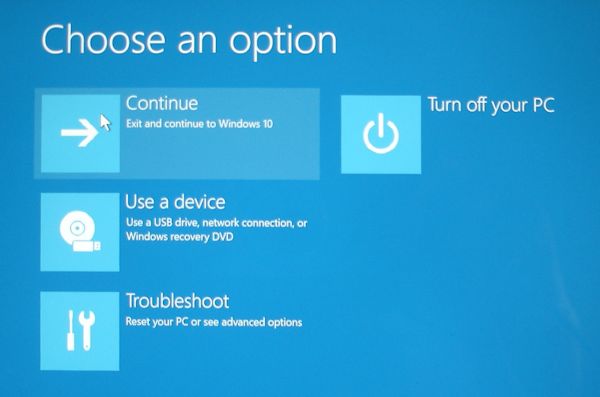 Troubleshoot: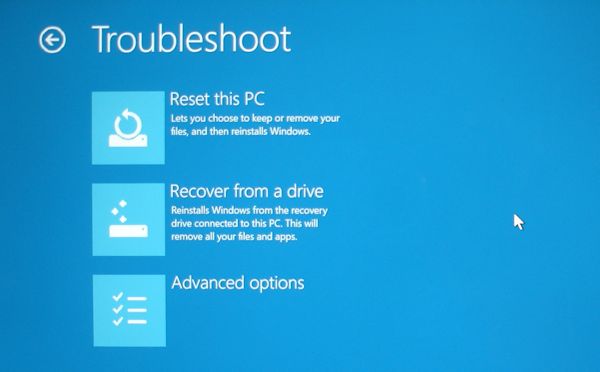 And Recover from a drive: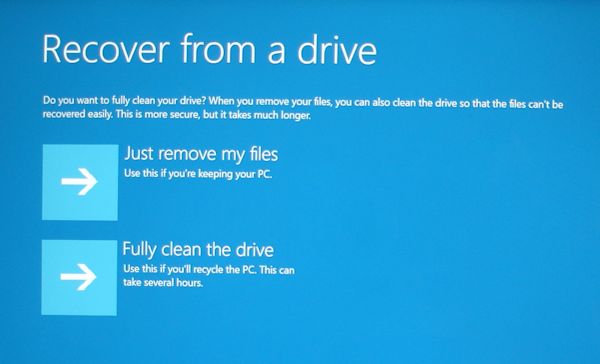 As the options indicate, you can elect to just remove your files (typical choice when recovering for you own use) or to fully clean the drive (a more secure choice if you are going to pass the tablet along to someone else).
During the multi-step recovery process it may pause with a message saying that there's a request to clear the TPM.  Read the fine print and select clear – or not – to continue.
Here's what a 128GB SSD looks like after recovery – including an installed 64GB micro SD card (see the original layout in the Size Matters section of this article):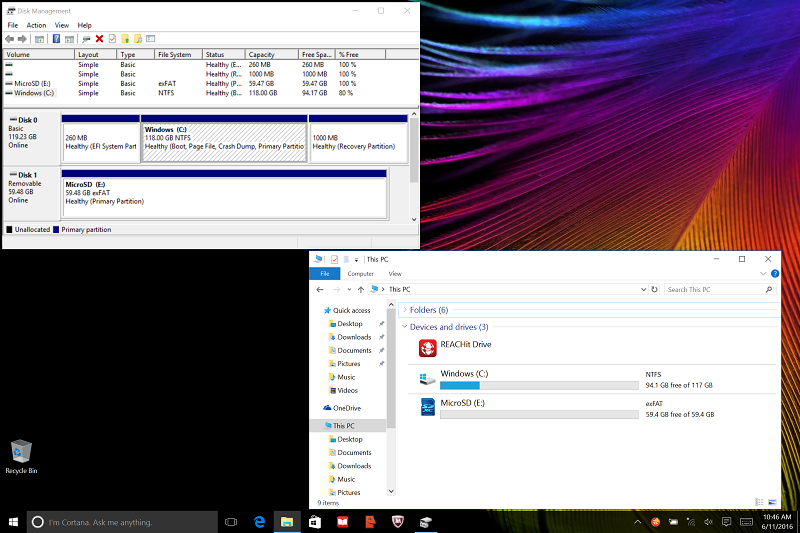 Issues, quirks, and cautions:
McAfee really slows down the recovery media creation process: I've run through the media build process several times.  If the McAfee live scanner is running it will take many times longer than it should.
Corrupted recovery media:  the first recovery drive wouldn't boot.   After chasing shadows for hours I realized that bootx64.efi was corrupt.  It had the right byte count but the contents were … who knows what.
The first symptom is the UEFI boot code complaining about security.  After turning off secure boot it just loops on the boot menu.  No idea where in the process things went wrong.  The 2nd drive I made was fine.
It's a very good idea to at least test bootability of media before counting on it.
Some vendor's flash drives may cause recovery to fail even though they will boot:  I tested two TEAM branded flash drives.  Both would boot and start recovery.  Both failed at 16%  These drives seem fully functional otherwise, although I have had some issues with USB 3.0 TEAM drives when connected to a USB 3.0 port.  ADATA USB 3.0 flash drives worked fine.  YMMV.
Recovery media (and recovery from the main drive) may not take the OS back to the version originally shipped:  Since this is a compact OS install there is no separate recovery partition.  Recovery media is built "on the fly" and will reflect the version in place when the media was created.
My Miix shipped with a pre-1511 Windows 10 but the recovery media was made after a Microsoft forced update.  Local (from the main SSD) and media recovery take the tablet back to 1511, not the OS as shipped.
Recovery to an SSD other than the original may still show the original in Device Manager.  This is odd.  The recovered SSD's properties are correct for the installed unit but the device model shows as the original.
You can easily archive the recovery media:  UEFI-bootable media doesn't require a boot loader in the same way that legacy media did. To archive media, just copy the files somewhere.
To build bootable media from the archived files, just copy them to a FAT-32 formatted flash drive.  There's no need to make the flash drive GPT, install a boot loader, or anything else.  I tend to use DISKPART from an elevated command prompt in Windows to  list disk, select disk, clean, create partition primary, format fs=fat32 quick, assign  to prep a drive.  Don't set it active.  That can fool some BIOSen into booting it in legacy mode.  And be darned sure to select the flash drive before doing the clean or you'll wipe some other system drive!